1 year in Business – an honest look back
t's my first business anniversary. 12 months since I finally decided to call my Life Coaching business "Dreamlife Deluxe". What can I say? You and your business change as you go – and that's amazing. Start before you're ready!  
What did my first posts look like?
Are you ready for this?
When I look at those I can't believe how much I've grown within one year, but here are my first attempts to be visible online:
September 2016


Another Facebook header and my first self-made logo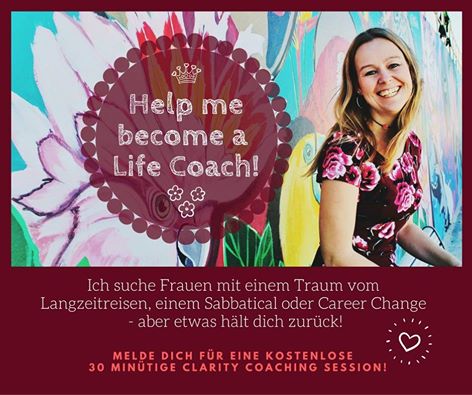 My first post to find test clients for market research
September 2017

My current Facebook header
My current logo, designed by Fabi Paolini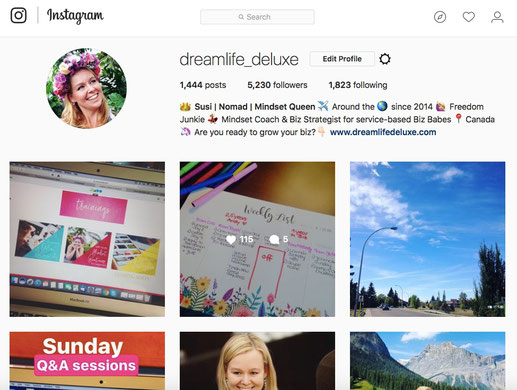 Some stats: From zero to around the world
September 2016
Facebook likes: 10
Facebook group: non-existent
Instagram Followers: 54
Website: non-existent
Clients I worked with: 0
Email list: had no clue what it is or how to start one
Income: $0
September 2017
Facebook likes: 1,544
Facebook group: 1,662 Location Independent Biz Babes
Instagram Followers: 5,240
Website: 4,145 visitors
Clients I worked with: 23
Email list: 1,300
Income: ~$5,000 each month
What investments did I make?
1. My Coaching Certification – $555
2. Nail your Niche 1:1 Intensive with a Mentor – $650
3. Mac Book Air 13″ – $1,297
4. Pinterest Set Up – $20
5. 90 days Business Coaching – $2,100
6. 3 months Mindset Coaching – $900
7. Website Design – $150
8. Sales Funnel Set Up & Facebook Ads Strategist – $650
9. Copywriting – $1,480
10. Personal Branding – $1,870
11. Money Mindset Coaching – $850
12. Mindset Programs – $500
13. 8 weeks Group Coaching – $497
Systems and Tools: 
Canva.com yearly fee – $170
Mailchimp yearly fee – $180
Instapage yearly fee – $410
Jimdo Hosting for my website – $170
Total Investments: $12,449
*all prices mentioned are in AUD.
What had the biggest impact on my success?
1. Mindset Work. 
I started out learning strategy. A business blue print for coaches, around Sales Funnels, free coaching sessions and content marketing. I signed up my first 2 clients. But I didn't show up or sell with conviction.
Learning the ropes of mindset work, money mindset, the law of attraction and changing my own limiting beliefs literally has shifted EVERYTHING in my life and my business.
It was the key to get from "struggling newbie coach" to "successful entrepreneur".
2. Hiring Mentors. 
The first few months of my business I was a freebie junkie and tried to figure it all out by myself. What I waste of time. If you want to get from A to B quickly and efficiently, surround yourself with people who already are where you want to be. Mindset Coaches, Business Strategists, Mastermind groups.
Don't take advice from people that are nowhere near to where you want to be!
3. Daily Disciplines. 
I think there's a lot of credit to give to my own discipline, ambition and determination.
I get up at 6am every day to work on my business. On Bali, on Sundays, whenever, wherever.
I focus on what matters every single day: Growing my audience, providing massive value, promoting my offers, being visible online, doing my mindset work.
Download your FREE habit tracker to get started!
What would I do differently?
1. Not follow so many coaches and business owners that are at a similar level aka "compare myself to others". It only makes you insecure, and the comparison game never has any winner. I literally signed up to 150 freebies.
Today I only follow inspiring people that are already where I want to be in 1-3 years.
2. Invest earlier. 
It gave me an incredible head ache that there is no proper free landing page providers. I've been researching for weeks because I felt not ready to invest $40 per month.
In the end I had to admit after 2 weeks of research that Instapage and Leadpages are the best platforms to go with.
If you want to run a business, you have to make decisions of a business owner.
3. Give my audience more than just inspirational quotes. 
Pretty Canva graphics with quotes were literally all I shared at the early stages of my visibility strategy.
Nice, but… not really giving my audience any idea what me or my service are really about, what I stand for and what they will get out of working with me, or even just following me.
Final conclusion:
I dare to call this year "the best year of my life". 
I started my business whilst living in Sydney, Australia. After 5 months in business I asked my partner if he's ready to quit his job with me to travel the world. I quit my job AGAIN to travel the world, this time with my own location independent business that I can take anywhere.
We've been traveling around the world since May 2017. Australia, Bali, Thailand, Germany, Austria, The Netherlands, France, United States, Canada. To be continued.
This is my second round-the-world-trip within 5 years.
I have more money in my bank account than in 2014, when I quit my corporate job in Germany.
I get to live my dreams, I get to share my message with the world and I get to HELP and INSPIRE others. 
Are you really asking me, if it was worth it?
Here's some photos from the last few weeks of my life: